As the Vietnam job market gains momentum post-pandemic and local talents are increasingly sought after, we once again delved into the mind of the overseas Vietnamese professionals on relocating back to Vietnam. What drives them to consider returning home, and what factors hold them back? How does the current economic landscape influence their decision? 
Our infographic below unveils overseas Vietnamese professionals' sentiments on moving back, outlining the push and pull factors and other considerations shaping their choice when looking for a new career opportunities back home.

Key insights

The urge to reconnect: 71% of Vietnamese professionals living abroad express interests in relocating back home, this percentage is notably higher than that of the three other Southeast Asian countries surveyed, namely Indonesia (60%), the Philippines (62%), and Singapore (58%). The longing is motivated by the emotional, social, and cultural connections to Vietnam was driving their urge to return

Economic realities: The current state of economy influences the decision whether or not to return. Economic development is the key factor driving overseas Vietnamese' desire to return home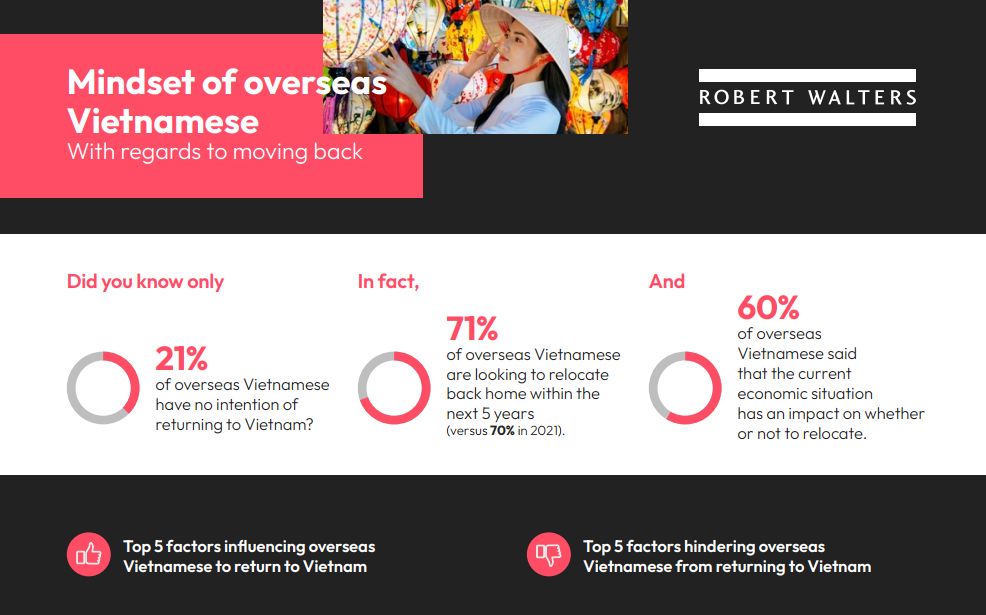 View and download the PDF file here.